Farrago 2.0 is a soundboard, a software application that can play, on demand, pre-recorded sound clips, music samples, and other audio recordings. Soundboards are typically used in radio broadcasting for jingles and station Ids; music beds (short instrumental segments); pre-recorded content, such as interviews; theme songs; and sound effects.
Soundboards are typically used in entertainment, to enhance live performances, such as music concerts and theater; although they can also be used for adding sound to video productions, and for teaching sound design and engineering.
One of the key features of a soundboard is the ability to trigger a particular sound, or series of sounds in rapid-fire succession, and with almost immediate speed. Farrago is a low-cost, flexible tool for adding professional sound effects to podcasts and contemporaneous shows, with just the press of a key or the click of a mouse. Sounds can be triggered by mapping them to particular keyboard keys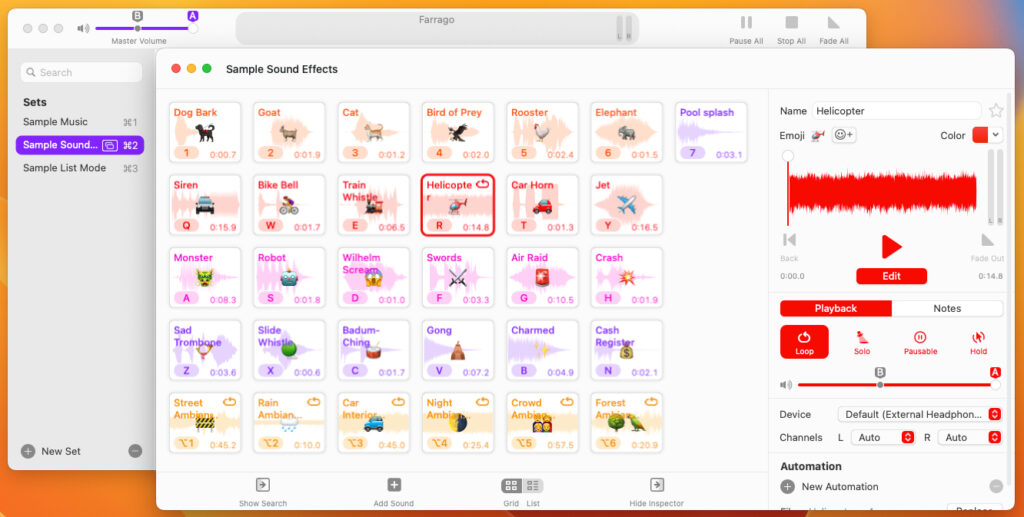 The program, which is provided with a library of sounds, enables the arrangement of sound tiles in grid or list form, that can be easily re-arranged, or formed into sets. Sets can be locked and password protected for those working in a shared environment, and Smart Sets can be formed to follow user configured rules.
Each audio clip can be identified easily by name, color, emoji, and more, and can be located immediately in the search field. New sounds can be located and downloaded from the Freesound (https://freesound.org) database and used immediately.
The built-in audio editor enables looping, fading, trimming, volume control, channel selection, and more. Users can also preview audio on a secondary, non-broadcast, device before it is played live.
Farrago also works seamlessly with two other Rogue Amoeba tools: Loopback, for audio routing; and Audio Hijack, for audio recording. A free trial version is available at https://rogueamoeba.com/farrago/download.php. $49