There is no easier way to make a significant appearance change to your Mac than with Folder Colorizer for Mac. Folders that differ from the plain standard default blue are more conspicuous, and make identification quicker and easier.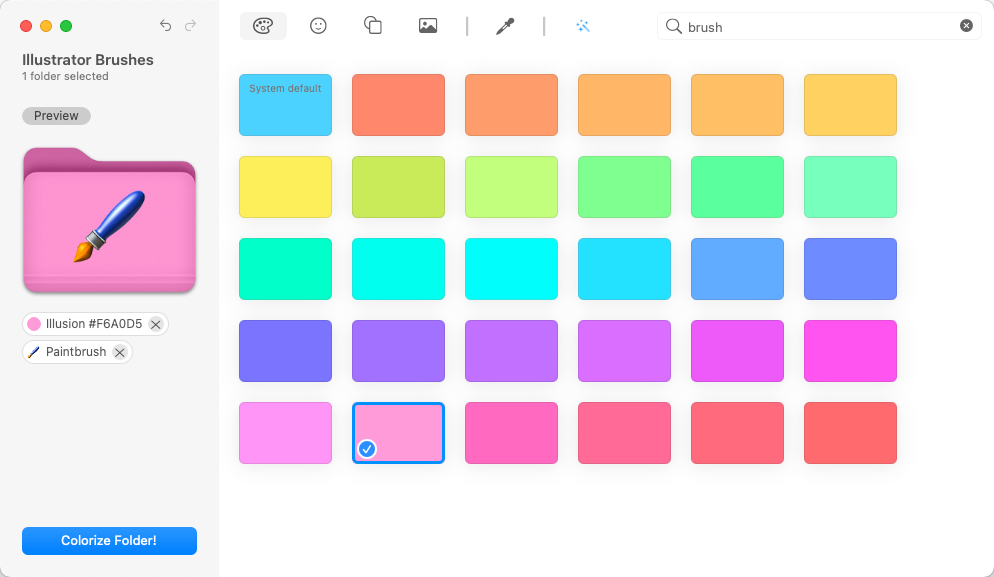 Users can easily customize their folders to make visual identification easier. Colorized folders not only pop out, but their visual customization can suggest what they contain. Experimentation is easy, and without any risk since folders can be restored to their original state, and each step in the colorization process can be undone.

A library of icons, referred to as "decals," are immediately suggestive of the contents that they hold. For example, the decal of a page may be used to identify a folder of documents; a filmstrip decal for movies; an envelope decal for email; and on and on.
The user interface is very simple. Just drag a folder onto the app and select the elements to dress it. Softorino provides 30 colors, or the user can use the Mac color selector to apply any color they wish. A variety of backgrounds, shapes, emojis, decals and images can similarly be applied. A user can also batch-process a number of folders with the same parameters by dragging-and-dropping multiple folders onto the app.

Users can also let the program select the best combinations of folder ID swag by using the Magic Wand option. Through the use of AI, the program attempts to select a combination of colors, emojis, and images based on the name of the folder. In addition, the search function reveals decals that may be appropriate for a particular folder.

There is considerable intelligence built into the program since it can maintain the appearance of colorized folders when transferred to another Mac, an external drive, or iCloud. All of the stylized information is carried with the folder.
Download a free trial version at https://softorino.com/folder-colorizer-mac/download/. Pricing information is available at https://softorino.com/store/folder-colorizer-mac/. A version for Windows is also available under the name of Folder Colorizer 2.
Contact: Softorino.com. For business inquiries: 1-805-253-2610.
E-mail address: josh@softorino.com.