PaintMaker is an on-line service that bridges the gap between the real and digital color worlds. It enables the user to produce accurate oil or acrylic paint mixtures that match colors selected from a digital image. A very useful introductory video can be viewed at http://sensuallogicarchive.dk/paintmaker/video%20tutorials.html.
As an amateur painter who only began his art "career" after retirement, I have found it challenging to match colors found in the physical world, or in a digital image, with the right combination of the paint colors that I have at hand. Determining proportions, shades, and color subtleties requires much patience, persistence, and ultimately a trained eye. It is difficult, even for experienced painters, and very subjective, at least until now.
What I had been using was a very handy book entitled 1500 Color Mixing Recipes for oil, acrylic & watercolor by William F. Powell (https://walterfoster.com/walter-foster-book/1500-color-mixing-recipes-for-oil-acrylic-watercolor-2/). The book does an excellent job of showing how to mix colors using proportionate amounts of paint found in standard commercial paint sets. The book includes reusable mixing grids for measuring and mixing the paints. Very good approximations can be produced.
While PaintMaker is much more accurate, it is designed to use the exact paint colors from a particular set of a manufacturers' paint lines, such as Artists Oil from Winsor & Newton, or Heavy Body Acrylic from Liquitex, although it can be used as a mixing guide for any paint line as long as it is a similar paint quality. About two dozen paint lines have been profiled so far, with more to come.
The PaintMaker process can begin by opening an image or by entering an RGB or HEX value. This may be an image that is to be used as a guide for painting, an image found on the Internet for inspiration, or an image captured specifically for grabbing a color sample for paint mixing. Once opened the user simply places the cursor on the target color, clicks, and then selects the "plus" button to add it to the palette. By selecting a color in the palette and clicking on "Calculate Recipes", the formulations can be displayed using the chosen measurement system (Percent, Parts, or Weight).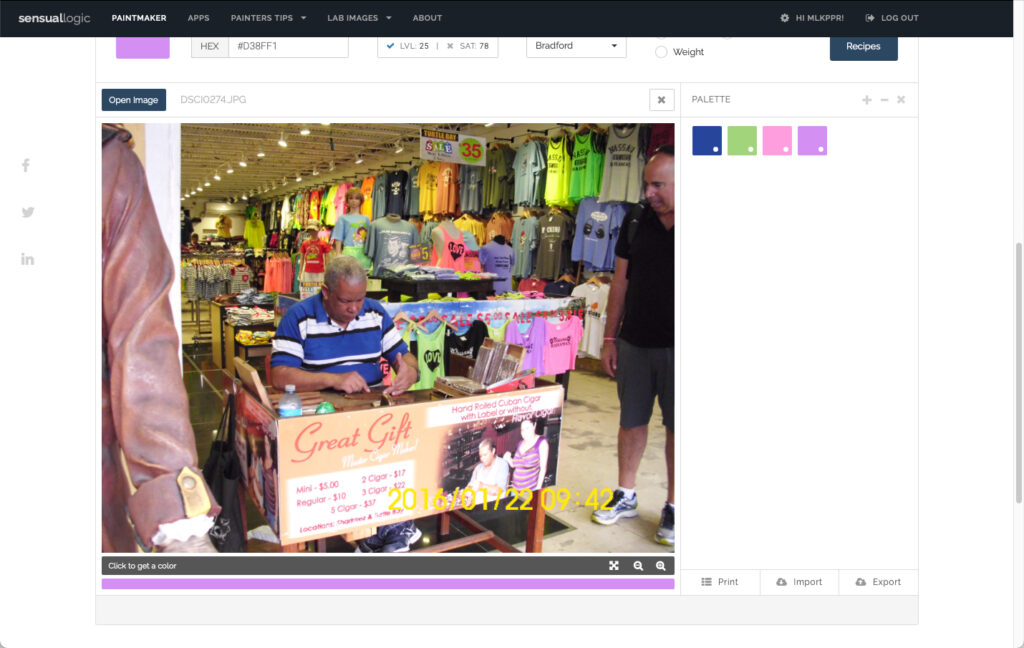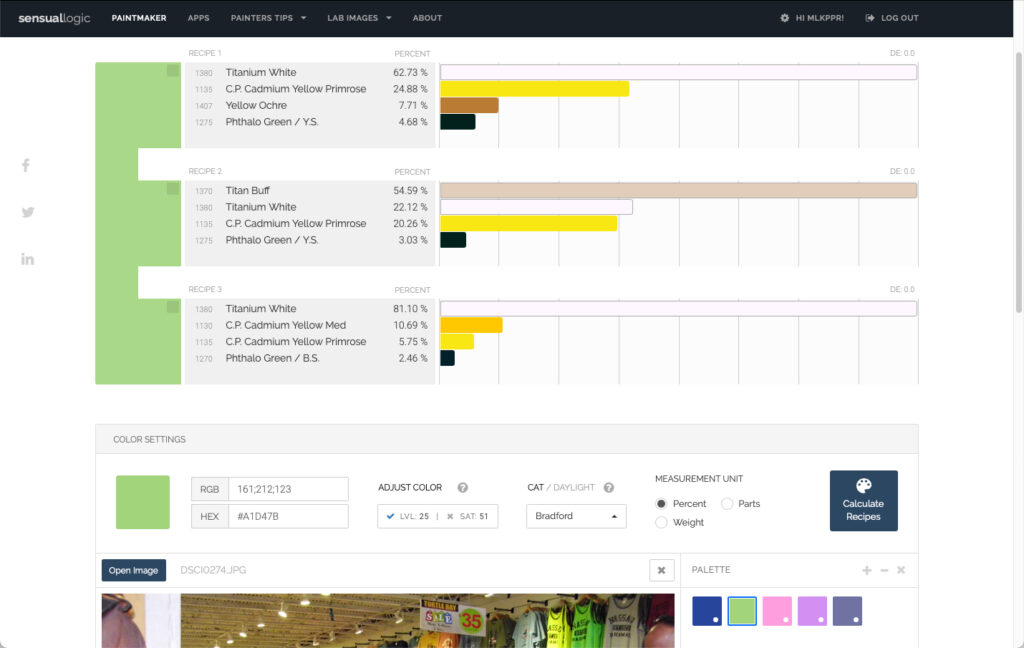 Even more amazingly, PaintMaker can calculate a variety of recipes using paint colors that the user may have at hand (http://colormixer.dk). Here is an example of producing virtually the same color formulated from different color ingredients, with only titanium white in common.
The PaintMaster website has an area devoted to Master's Palettes (http://sensuallogicarchive.dk/paintmaker/the%20master's%20palettes/page%205.html), showing the paint formulations for many famous painters, and the recipes for duplicating their sets of colors. Many other useful tools can be found on the site which is quite worthy of exploration.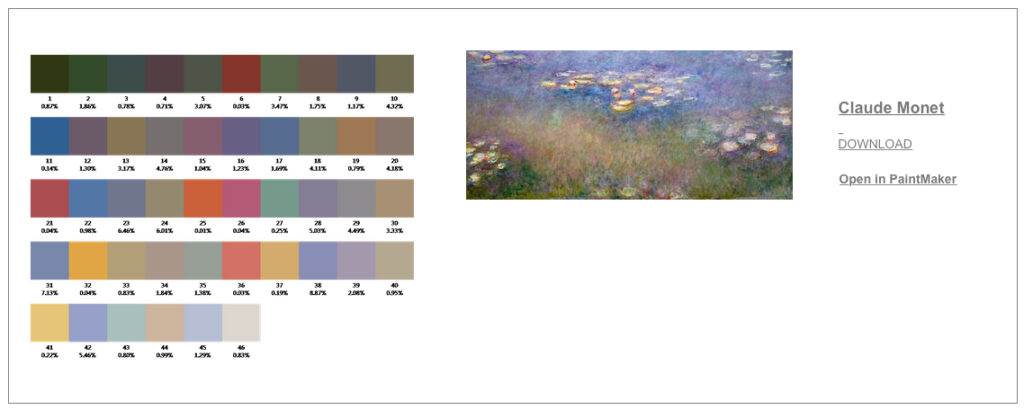 Each paint recipe calculation costs one credit. There is no time limit on when the credits must be used. Credits are very inexpensive, as can be seen by the chart below.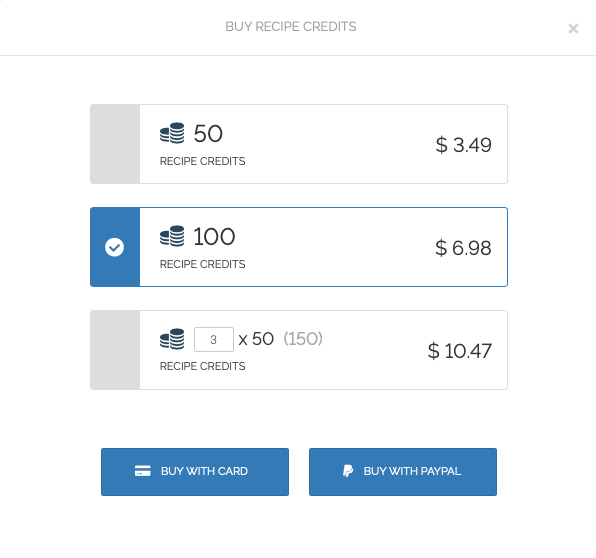 The user may not have the entire complement of colors in a particular set, and can therefore narrow the formulation of a recipe by selecting only the colors that they do own. This, of course, can reduce the precision of the calculation, and may result in producing no acceptable formulation at all. When five or fewer colors are selected for the set, PaintMaker will produce a recipe regardless. In that way one can get a monochrome paint palette from a color image
The idea for PaintMaker began in 2006, when Christain Skeel, a Danish painter became frustrated with mixing lighter colors during dark and overcast days of winter in Denmark. He contacted a number of paint manufacturers seeking a solution, but was told that developing such a system was impossible. He persisted on his own with no success until he contacted Anders Holm of the Niels Bohr Institute. Holm, working with algorithms developed by physicists Kubelka and Monk, found a way to calculate color mixing recipes. Producing an easy-to-use program that incorporated the algorithms moved forward with the help of Zsolt Miklós Kovács-Vajna at the University of Brescia in Italy. Each color in a base set is mixed with nine variations of white to create the initial image samples. The process of creating color samples for the system takes several months since they must be completely dry before scanning their surface. This drying process can take up to a year for oil paints, and several months for acrylics. The developers of PaintMaker should be applauded for their contribution to artists and everyone else working with colors around the world!