GraphicConverter for Mac 11.2.1 is in a class by itself, so feature-laden that its manual exceeds 400 pages! It is one of a select number of non-destructive image manipulation tools that is truly an essential part of every digital publisher's software arsenal. The program can import approximately 200 graphic formats, and export them to 80 different formats.
The Welcome Screen provides alternative ways to process one or more images, although a single image, or a folder of images, can be dropped on the program's icon in the Finder, placed on the Welcome Screen Drop Zone, or opened using the menu system. As well, an image on the Clipboard can be imported directly. Pictures from digital cameras can be imported directly, including those in RAW format.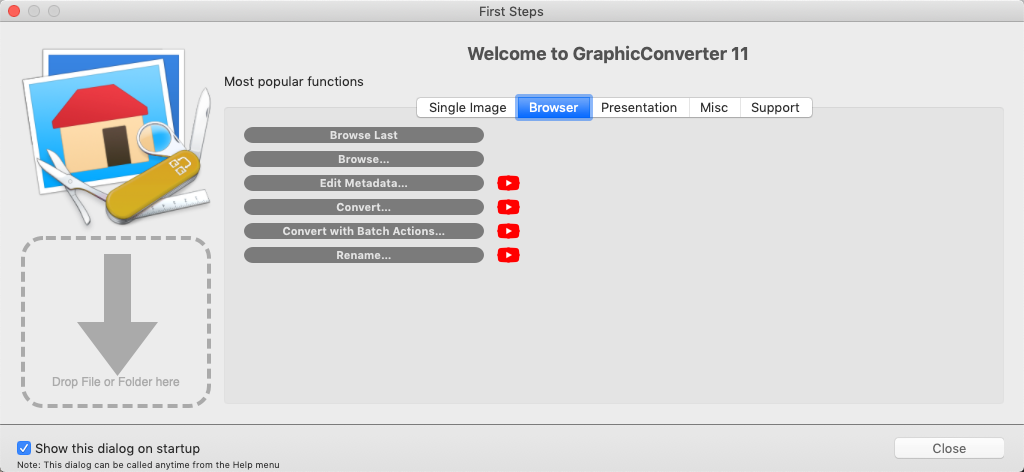 The Browser option presents several significant ways to process images; either by presenting them as a matrix of thumbnails; acting on image metadata; converting image attributes, either singly or in a batch; or renaming files. Users can easily produce custom catalogs in web, print, or picture formats.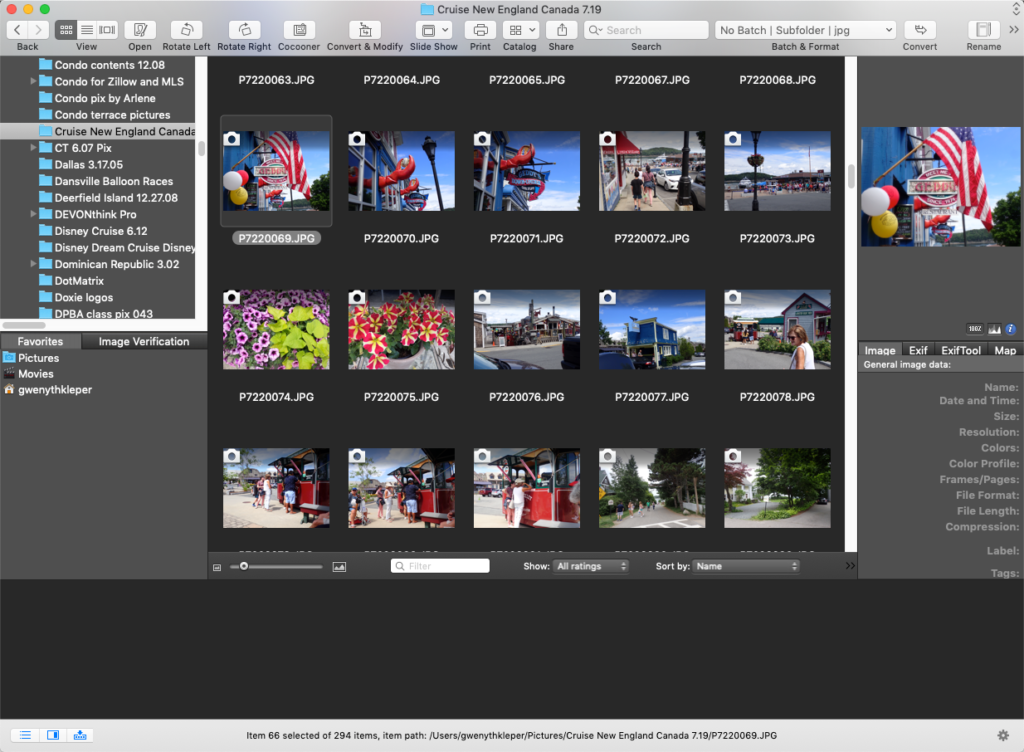 Images can be managed in the totality of their functionality, meaning that GraphicConverter can find them, sort them, edit them, convert them, and present them, with complete user control. This flexibility enables practically any conceivable user-based workflows, any of which can be saved and incorporated into routine operations. Batch Conversion offers a wide variety of parameters, listed in several categories, that can be applied to up to 32,766 files per folder.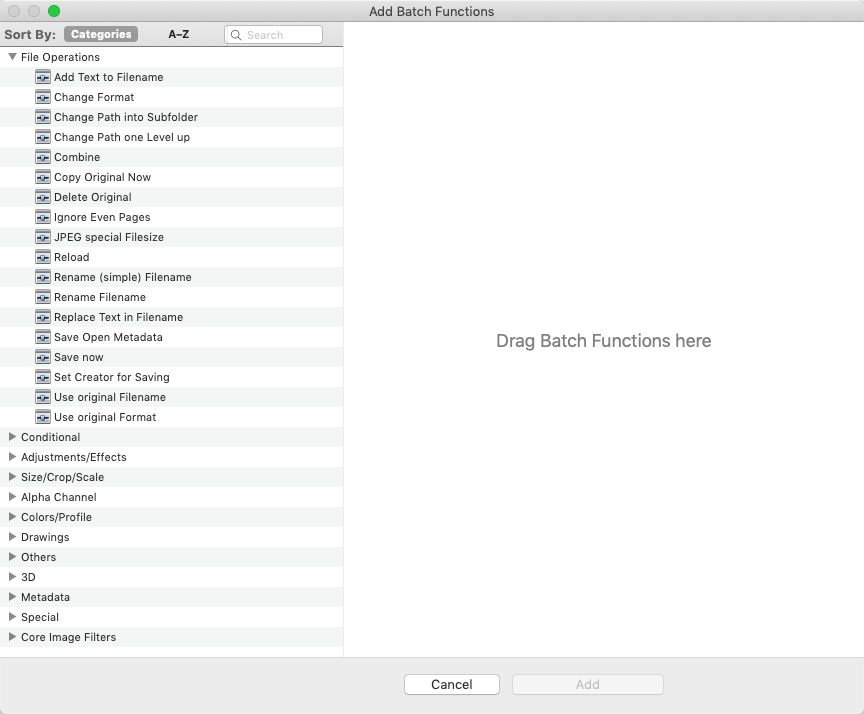 Not only are all operations retained with Auto Save, preventing work loss due to a crash or power failure, but the Save a Version option records all editing steps, so that the user can revert to an earlier version, much the way that Apple's TimeMachine works.
Among the many, many features are: Facial Recognition, with an editable database; Analyze, which can detect the objects found in a picture and add them to the image's metadata; Save As Split which enables the user to divide an image into prescribed dimensions in pixels, or a designated number of parts; a wide variety of Filters and Effects; and so much more.
The Toolbox contains an array of tools that should be familiar to anyone who has used an image editor, from MacPaint to Photoshop. Images can be improved manually, or with the capable Express Picture Enhancement function. The program supports the inclusion of ImageOptim, which makes it possible to retain image quality while removing unnecessary metadata, thus reducing the file size. The program can be downloaded for free at https://imageoptim.com/mac.
The extensive feature set defies writing a concise review. Fortunately, in addition to the detailed manual (https://www.lemkesoft.de/en/products/graphicconverter/manual/), the user has the option of viewing a variety of tutorials available at https://www.lemkesoft.de/en/products/graphicconverter/videos/. GraphicConverter is shareware and may be downloaded for testing at https://www.lemkesoft.de/en/products/graphicconverter/download/. $39.95
Contact: Lemke Software GmbH, Zum Rohkamp 5e, 31228 Peine, Germany, +49 5171 72202 (English), http://www.lemkesoft.com, e-mail: lemke@lemkesoft.com, fax: +49-5171-72201.