SnagIt 2021, available for Windows and Mac, rises to the top of the heap of screen capture and recording apps. SnagIt, part of a product family with more than 65 million users, has secured its position as the best-in-class solution for capturing, editing, and sharing static and motion on-screen activity.
The app can be summoned by using a hot-key, the menu bar, the OneClick tab, executing a System screenshot, or from within the Editor, providing the greatest range of access of any such application.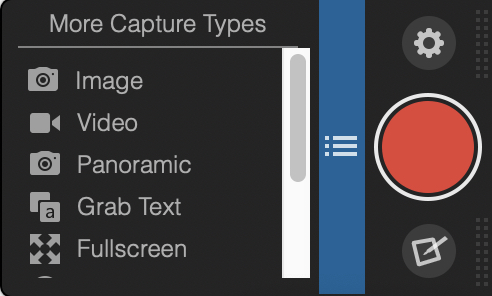 Among its most unique features is Smart Move, which enables the movement of objects in a captured screen to be moved, deleted, or edited. Along with the new Text Replace feature, users can edit text, change fonts and sizes, and colors. Digital publishers will find this to be a major productivity enhancer since it can avoid post-processing of screen captures in an image editing application.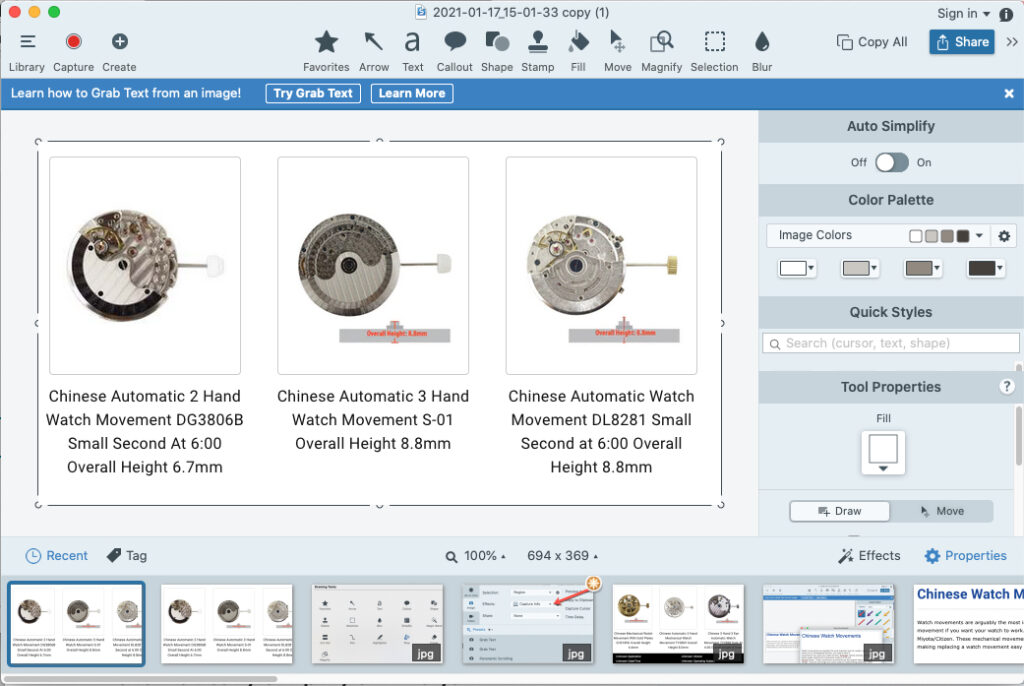 The arsenal of post-capture tools is the most impressive we have seen. Not only can users perform common tasks such as adding arrows, text, callouts, lines, stamps, and shapes, but they can magnify areas for emphasis, label workflow steps, cut out vertical or horizontal sections to join them, crop, and add special effects such as borders and torn edges. With the use of the Magic Wand, users can target specific objects and move or delete them.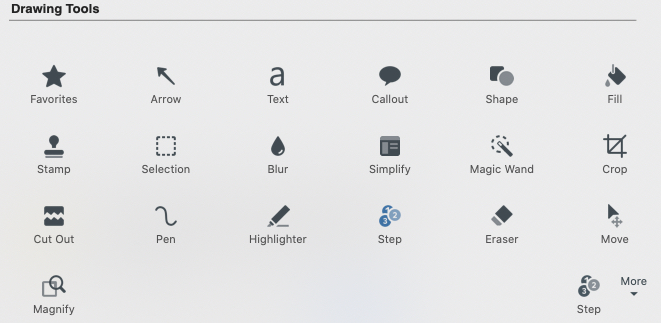 The desktop video recording has been enhanced for a higher frame rate, producing smoother recordings and stability. The user can also capture webcam video and audio and incorporate them in the recording.
Unlike other screen capture utilities, SnagIt 2021 can capture screen page real estate that is not currently visible. It can capture full web pages and long documents that are only displaying a portion of their contents. It does this using its Panoramic Capture feature, which enables the user to scroll vertically or horizontally, by pulling on the corresponding arrows to reveal additional screen content, and capture as much as is needed.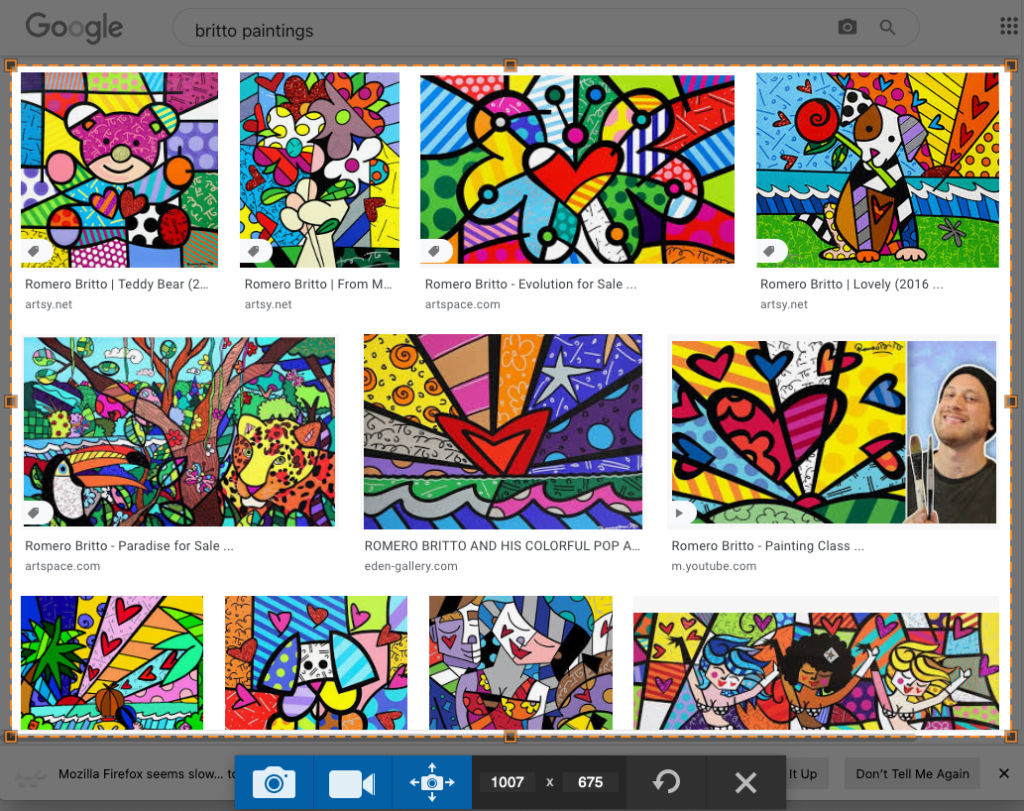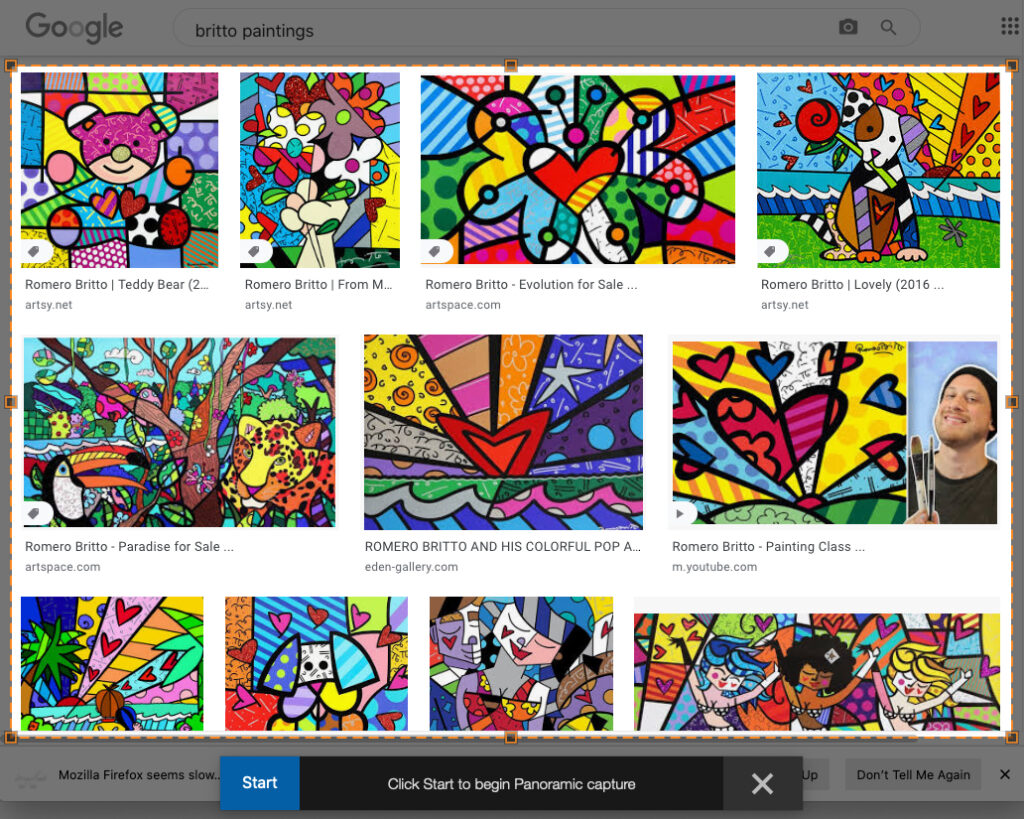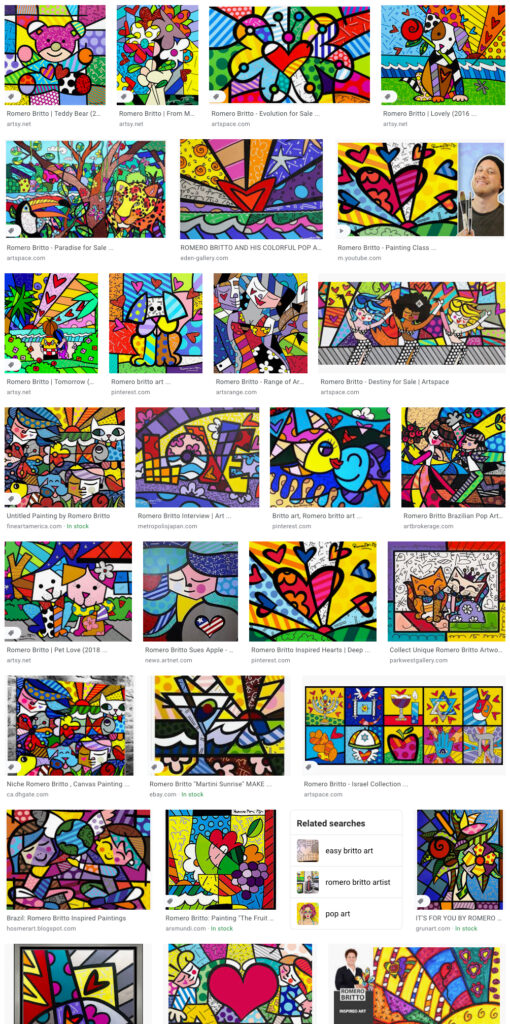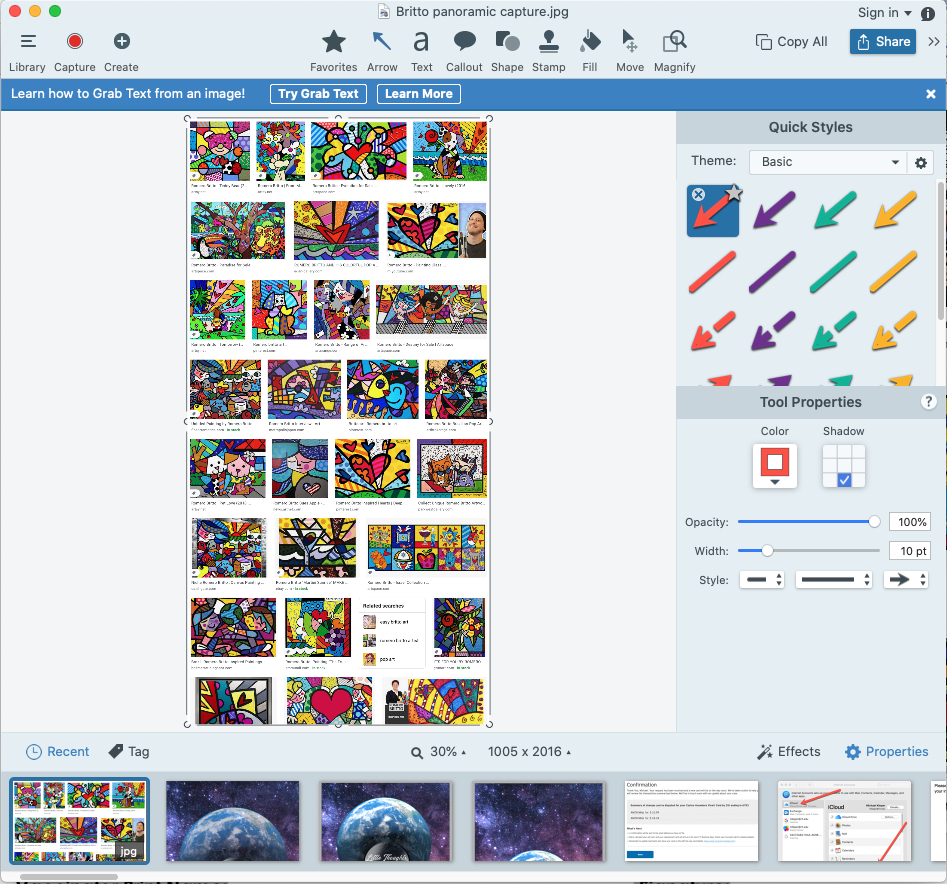 In addition to capturing static content, the user can record screen activity as a video, with the computer audio and, optionally, user narration.
SnagIt 2021 can capture an image of any text, and using its Optical Character Recognition (OCR) engine (ABBYY FineReader), convert it into editable text that can be copied and pasted into any application. This function can also be performed on text that has already been captured, by using the Grab Text… option in the Edit menu.
SnagIt 2021 is much more than a capable means of capturing content on the screen, which, incidentally, it does extraordinarily well. Of equal value is the capability to create instructional materials from captured content that can be used to instruct, inform, educate, and train. Central to that effort are templates, which are predesigned layouts of steps, procedures, and instructions that can be modified easily to fit particular needs.
As a screen capture is executed the user can opt to include capture information, including date and time, OS details, browser details, and URL. In addition, the program can easily simplify a capture using its OCR capability to automatically recognize text and graphics and replace them with less-detailed elements that are less likely to distract or confuse the viewer.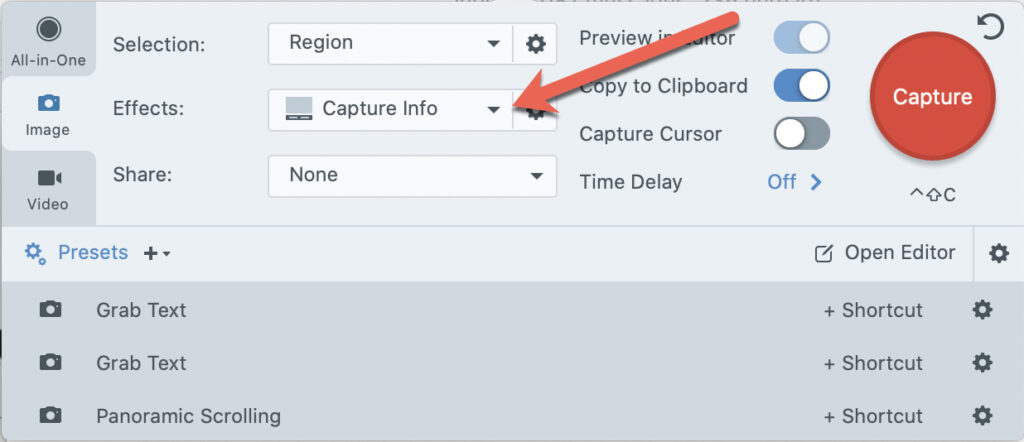 After an image has been captured, SnagIt 2021 provides a palette of tools to remove, reorganize, duplicate, resize, and modify with powerful and easy-to-use options for annotating, selecting, drawing and editing. Using its Smart Move and Replace Text feature, the user can isolate text and graphics and move them with the background automatically filling in. In addition, the text can be edited, and the font parameters can be changed.
Anything created in SnagIt 2021 can be shared with anyone using email, FTP, or cloud services. In addition, SnagIt creations can be sent directly to many applications, such as Word, PowerPoint, and Excel; saved as a file; or shared through a social media site, such as Twitter.
A visual guide, which is the means by which captured information is distributed, is produced by selecting Create in the SnagIt editor. The guide can be composed either of static images or videos, and its output form is revealed in the Create dropdown. Selecting Image from Template displays a selection of predefined templates, although others can be downloaded for free or purchase. Among the template offerings are categories such as Comparison, Frames, Fun, Multi-Purpose, Reference, Steps, and more.
After a template has been selected, the user simply populates it with images from the Capture Tray by dragging and dropping them in the appropriate drop zones in the template. Titles and captions are added, and any element in the visual guide can be modified, new sections can be added, elements can be resized, moved, or deleted. When completed, the guide can be saved and shared.
A visual guide resembles a printed book, with static elements. The Video from Images option in the Create dropdown, enables the user to add narration and mark-up, to explain a process, or demonstrate a set of instructions. In Recording mode the displayed canvas becomes the layout area for composing the presentation. The Recording toolbar appears below the canvas, with options to start and stop recording, add narration, use the webcam, show or hide the mouse cursor, change the background color, and navigate within the recording. At the appropriate times, elements, including videos, from the capture tray are moved onto the canvas, and any annotations are added. The arrows in the toolbar are used to advance to the next image or to revert to a previous image. At any point the recording can be stopped, or resumed. SnagIt makes a single recording of everything that has been composed in the recording area. A completed recording appears in the first position in the capture tray. It can be trimmed and edited prior to distribution.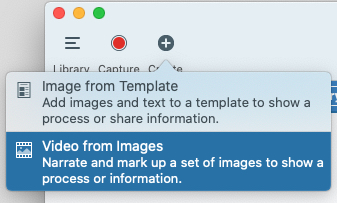 A video can also be converted into an animated .gif file, which in and of itself is an effective way to illustrate a brief operation. An existing video can be opened (File/Open…), or a sequence of operations can be recorded using SnagIt itself. In either case, the video can be trimmed, converted, and shared.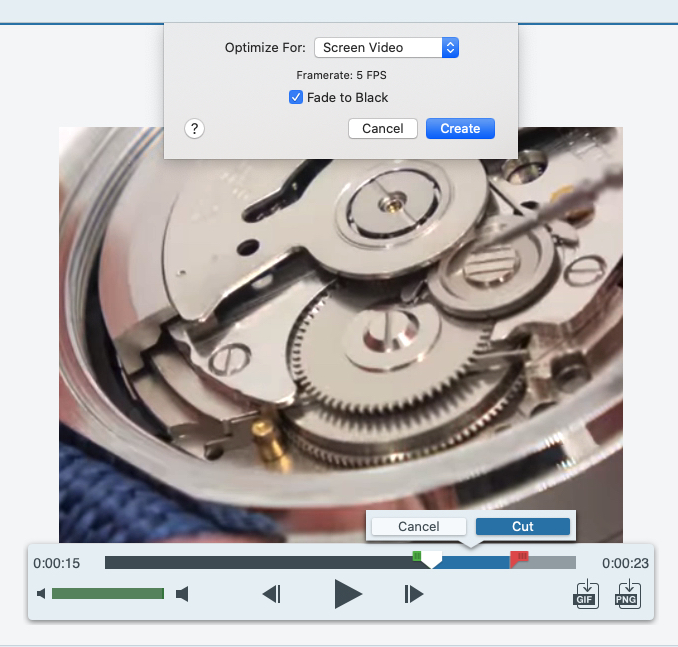 In order to apply a company style book to conform to approved colors and fonts, SnagIt provides a way to create, apply, and share Themes. Themes insure design consistency, and help teams to remain true to a company brand identity. In the Properties editor the art director or designate would select a drawing tool, such as Callout, and select New Theme… from the Theme dropdown. Here the user can name the theme, specify up to eight colors, select a font, and apply an optional shadow. Themes can be saved, shared, and imported. Individual tool properties, such as arrows, can be customized, and saved as Quick Styles, and added to individual themes. A modified tool variant is automatically designated as a Favorite, although any tool version can be defined as a Favorite. $49.99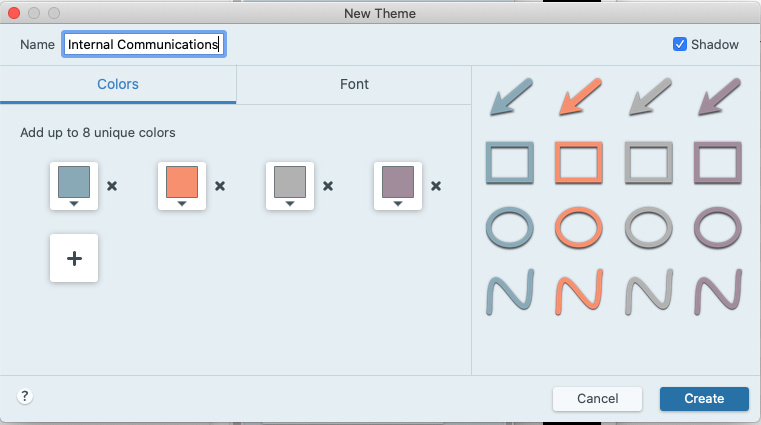 Contact: TechSmith Corp., 2405 Woodlake Drive, Okemos, MI 48864, 517 381-2300, <http://www.techsmith.com>, ftp: ftp.techsmith.com, e-mail: sales@techsmith.com, fax: 517 381-2336.