StudioMagic I and II are powerful plug-ins for Adobe Photoshop CS that significantly reduce the complexities of producing professional-quality image compositions.
Photoshop excels as the most creative digital imaging environment available. However, just as a grand piano will not produce pleasing music in the hands of a novice, Photoshop's superpowers will remain dormant without a skilled digital artist…until now! The single-click capabilities of the StudioMagic palette selections can be applied by virtually anyone, and the results can match those of the most talented computer artist.
The StudioMagic plug-ins address the two major design capabilities and general uses of Photoshop: Namely, cutting an element out of one image and placing it seamlessly into another; and, adding effects that materially alter the appearance of an image.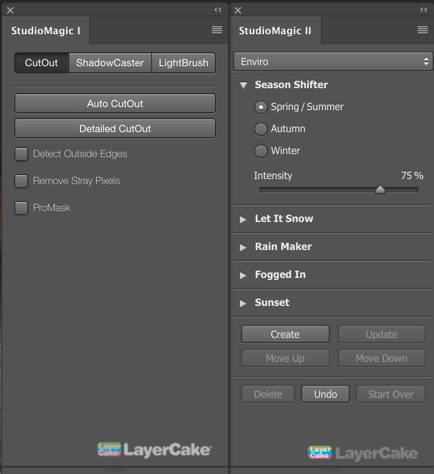 In the first case, cutting out an image element, such as a person, from its original image, and placing it on a new background, requires that the process includes every pixel of the target, and nothing more. The human eye, which is capable of a resolution of 576 megapixels, can easily detect any irregularities, requiring that a target image is precisely defined and realistically placed. StudioMagic I provides three tools for this purpose: CutOut, ShadowCaster, and LightBrush.
CutOut enables the easy transfer of a selected foreground object, specified by means of Photoshop tools (i.e. Magic Wand or Quick Select), to be automatically pasted into a new background with a single click. Particularly difficult images having fine detail, such as hair, can be precisely cut out using the StudioMagic Refine Edge option. Once pasted and resized the newly composed image can be acted upon using other MagicStudio tools.
ShadowCaster offers an easy way to apply any of more than a dozen shadow effects, with real-time control over placement, size, slant, softness, height, and intensity.
LightBrush enables the application of various forms of light, such as beams and vignettes, that can dramatically affect the mood and feeling of an image, significantly changing the ambiance it conveys.
StudioMagic II provides a set of tools that materially affect the overall appearance of the composed image, including the introduction of atmospheric effects. The tools include Enviro, HyperZap, Reflections, LightingEffex, and Compositor.
The Enviro component may be where StudioMagic best displays its magical powers. The Season Shifter option enables the user to select the season (Spring/Summer, Autumn, or Winter) and have the image conform, with an adjustable degree of intensity, and with options for snow, rain, fog, and sunset, each with sliders to apply precise control. As each effect is created, it can be moved up or down in the Layers palette to conform to the composition.
The HyperZap component consists of two options. Color Pop, which affects the overall coloring of the image, with a wide selection of color presets with adjustable intensity; and Grunge Boost, which can be applied to the entire image or a selected subject, with sliders for saturation and intensity.
The Reflections component provides adjustment sliders that can create either Water Reflect or Mirror Image effects to the entire image or a selected subject. The Water Reflect, in particular, provides dramatic imagery with precision control over ripples, height, cooling, blur and intensity.
Lighting Effex can act on either the entire image or a selected subject. With its Intensity slider it can apply Warming, Cooling, or tinting of a selected color in the image. The Rays, Beams, and Bursts option provides more than two dozen lighting selections that can be customized by intensity, size, and blur. Finally, the Edge Light option produces a vignette around the edges of the image, or selected layer, with control over width, softness, and intensity.
Lastly, the Compositor is an environmental wonder tool that affords the user the power to create the world as they would like it to be. It provides an inventory of presets of clouds, moon phases, rainbows, starry skies, lightning strikes, and birds and flocks, all with precision slider controls. In a matter of minutes the user can compose a realistic scene of incredible beauty.
A series of helpful tutorials can be found at https://vimeo.com/studiomagic/albums/page:1/sort:date. $179
Contact: LayerCake StudioMagic, Alan Mayer, 5421 Godbey Drive, La Cañada, CA 91011, http://www.layercakeelements.com, 805 451-6017, e-mail: help@layercakeelements.com.